Be ForGreen Be Sustainable
Certified, traceable and clean energy
A sustainable style for your energy
Be ForGreen, Be Sustainable is not just a brand, it is the choice made by our customers and energy producers belonging to ForGreen's sustainable communities. They become part of them when they decide to produce and/or purchase only certified and clean energy. The pay-off of the brand, "Be ForGreen", means being in favour of clean energy and choosing ForGreen's certified electricity; "Be Sustainable" means embracing a sustainable strategy for a company or a sustainable lifestyle for a family. These elements are the cornerstones of ForGreen's sustainable communities.
The shape and design of the logo contain the centrality of the concept of sustainability, the attention to the person and a circular model where the gap between consumers and producers is filled thanks to the energy model created by ForGreen. Thanks to the traceability of energy producers, the brand identifies the members of ForGreen's communities and confirms to consumers the "sustainable style" of their energy.

---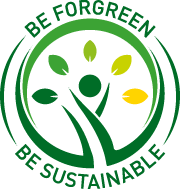 Discover where we purchase our energy
Traceable energy means making available to our customers the list of power plants from where we purchase renewable energy. In addition, this traceability is confirmed by the Guarantees of Origin (GO) that we buy from producers.

Here following you can find the power plants from where we purchase renewable energy:
---
Do you want more information about our offers and services?
Call the number 800 999 210 or fill the following form…